ALL THESE CHECKMATES HAVE BEEN SOLD! I NO LONGER STOCK CHECKMATES DUE TO EVERYONE ALWAYS WANTING COLORS I DON'T HAVE. I CAN STILL ORDER ANYTHING YOU WANT, AND I STILL DO ALL MY CUSTOM RIGGING.
SOLD! This is a brand new Checkmate 21BR that I just rigged last week. All my boats are custom rigged by me with all parts being different and upgraded from stock rigging. Rigged with a new Mercury 225 Optimax. 74-75 on GPS, 6 mpg. Aluminum trailer with mag wheels, torsion axel, and swing-away tongue for easier storage. Options include: Pirelli flooring, custom graphics, six Livorsi carbon fiber guages with bezels, Accon pull-up cleats with red bezels, battery switch, Momo steering wheel with red billet hub, Livorsi controls, custom switch panel, Custom 12" setback bracket, red stainless grab handles, 12 volt accesory plug, red cup holders. I can get delivered. Price just lowered to $48,500 Other motors available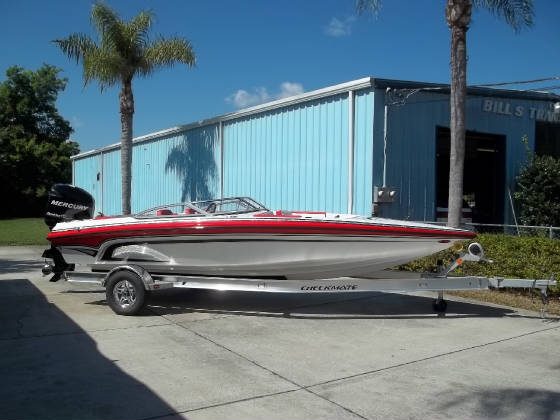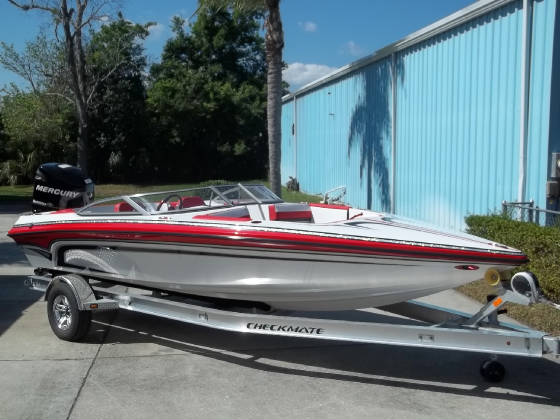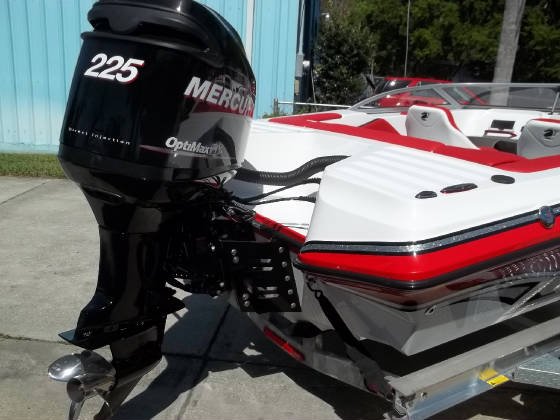 Mercury 225 Optimax on custom setback bracket. 74-75 mph!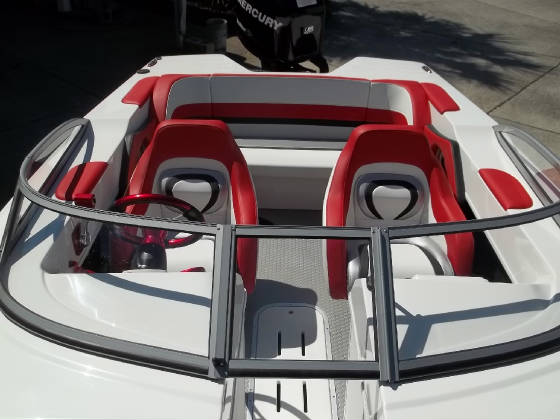 Ski locker in floor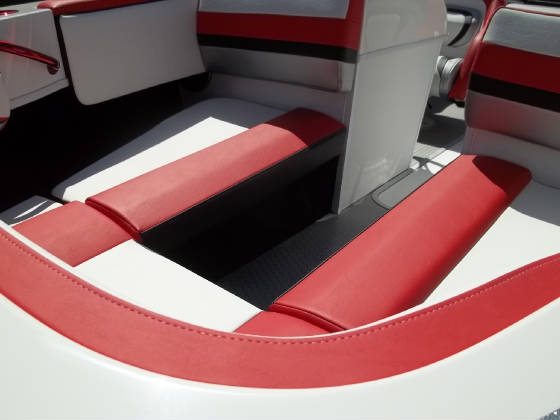 Storage under all the bow cushions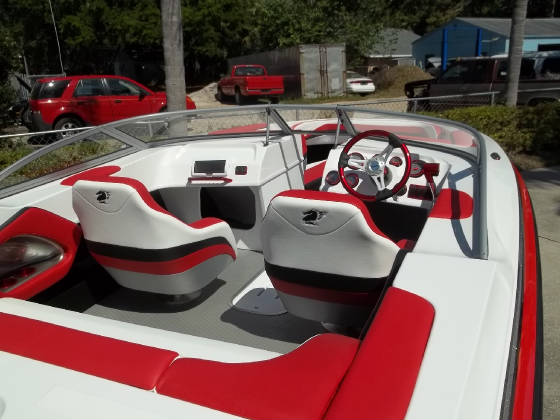 Pirelli flooring is very easy to maintain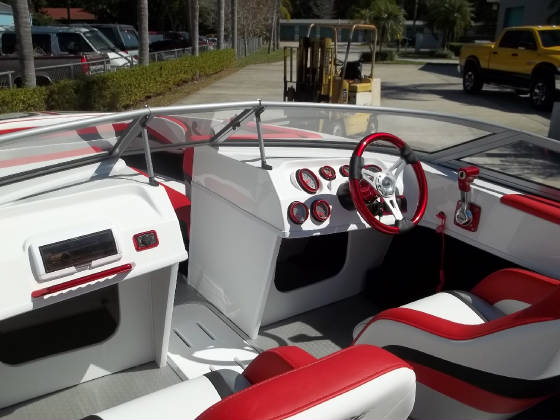 All custom rigging is only done here.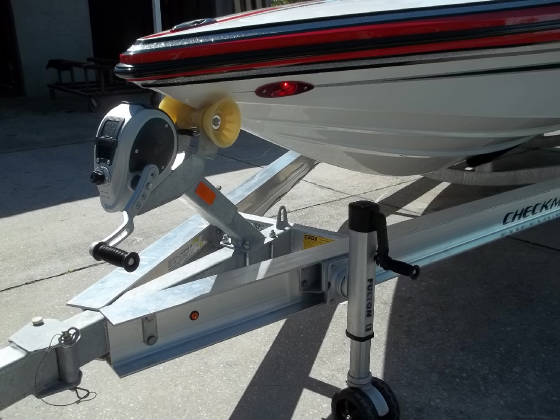 Aluminum traler with upgraded winch and stand
SOLD !!! WENT TO LAKE PLACID, FLORIDA.
I just got this new 2013 Checkmate 24BRX in a couple days ago. I just finished rigging it. It has all the cool stuff and a real nice aluminum trailer with mags. New Mercury 300XS. Boat will run 70-73 on GPS. Seats ten. Gets on plane instantly! Livorsi offshore controls and Smartcraft guages. Tons of storage. Rides great in choppy water. Priced right at $61,500 on the trailer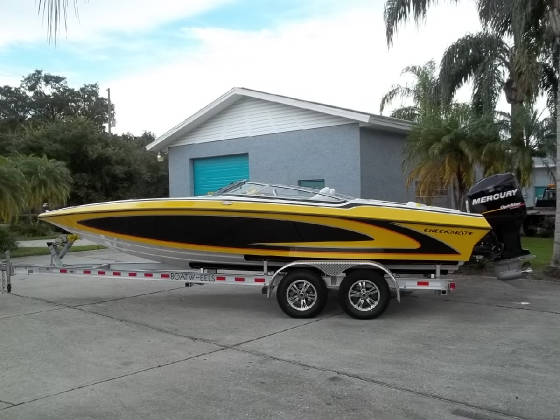 Optional CTX graphics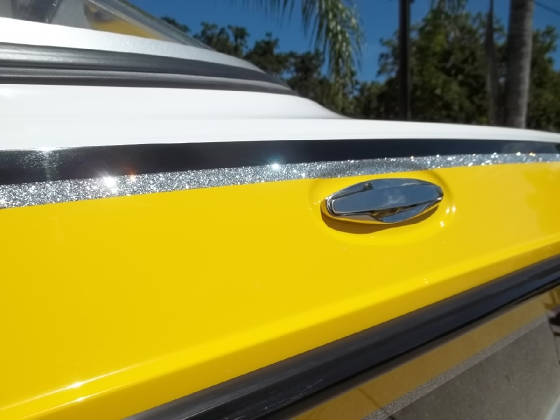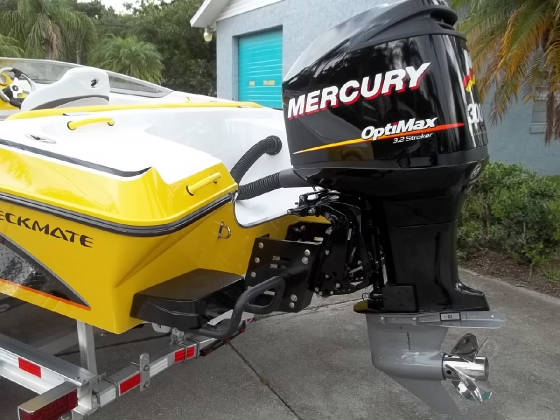 Mercury 300XS Optimax. Great on gas!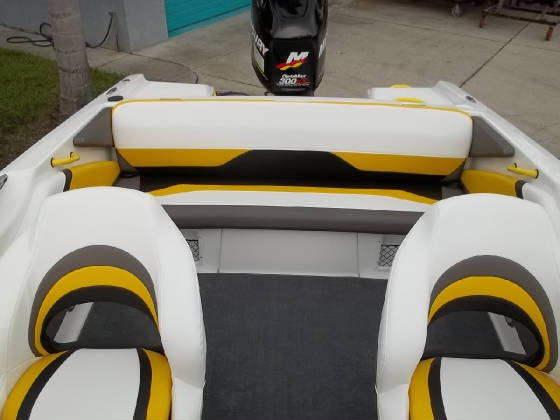 Huge interior. Will seat ten people.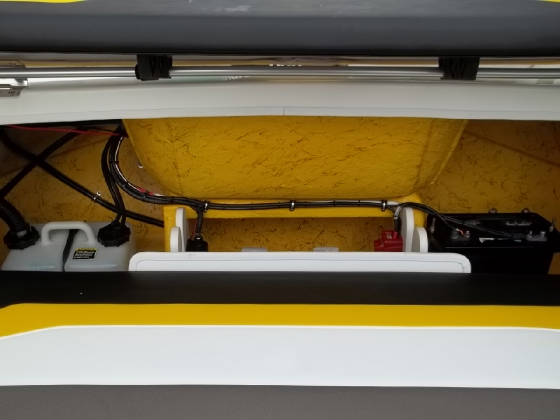 Storage behind rear seat for wakeboard or water skis.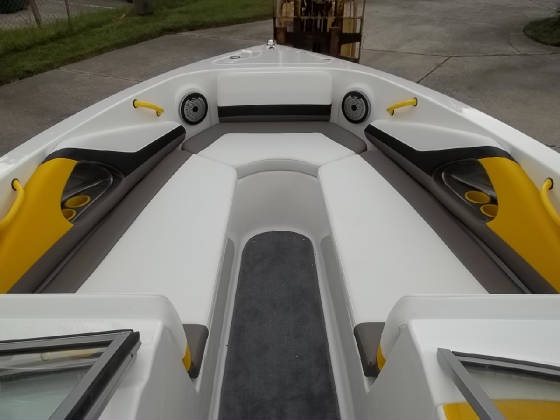 Large bow area.
Tons of storage under all the bow seats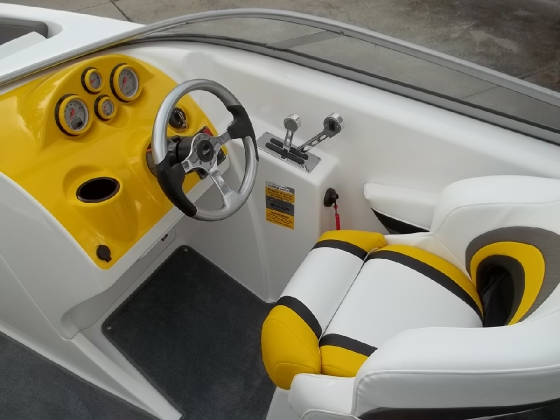 Livorsi Smartcraft guages and offshore controls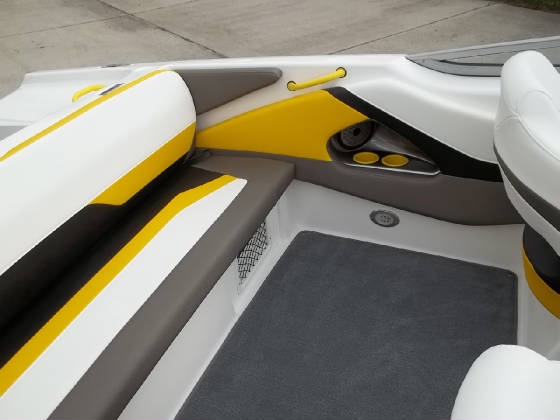 Drink holders everywhere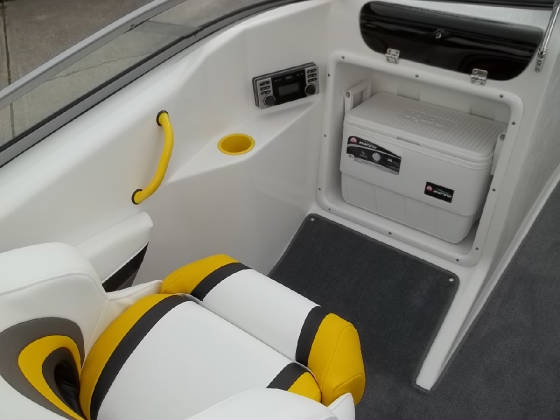 Built in removable cooler
SOLD !! WENT TO ST PETERSBRG, FL. This boat is a new model from Checkmate. Originally the hull is the 30 Convincor I/O, but without the platform. This one has a ton of options including Garmin GPS, stereo upgrade, Galley package with sink, microwave, refrigerator with shorepower. Power hatch lift, two deck hatches, fender rack, McCleod stand up bolster seats, lenco race tabs, stainless Marine outboard bracket with full platform, hydraulic steering, full mooring cover, snap-in carpet, fiberglass windscreen, and all guage and cleat bezels. Trailer is a new tandem aluminum Phoenix trailer with 4 wheel stainless disc brakes and torsion axels. MSRP on this boat is over $167,000. I got a special deal on this boat, priced way under dealer cost. You will NEVER find one of these boats new for even $25,000 more! This boat is like a mirror. Just about the best moldwork and finish I have ever seen on a hull. MORE PICS HERE: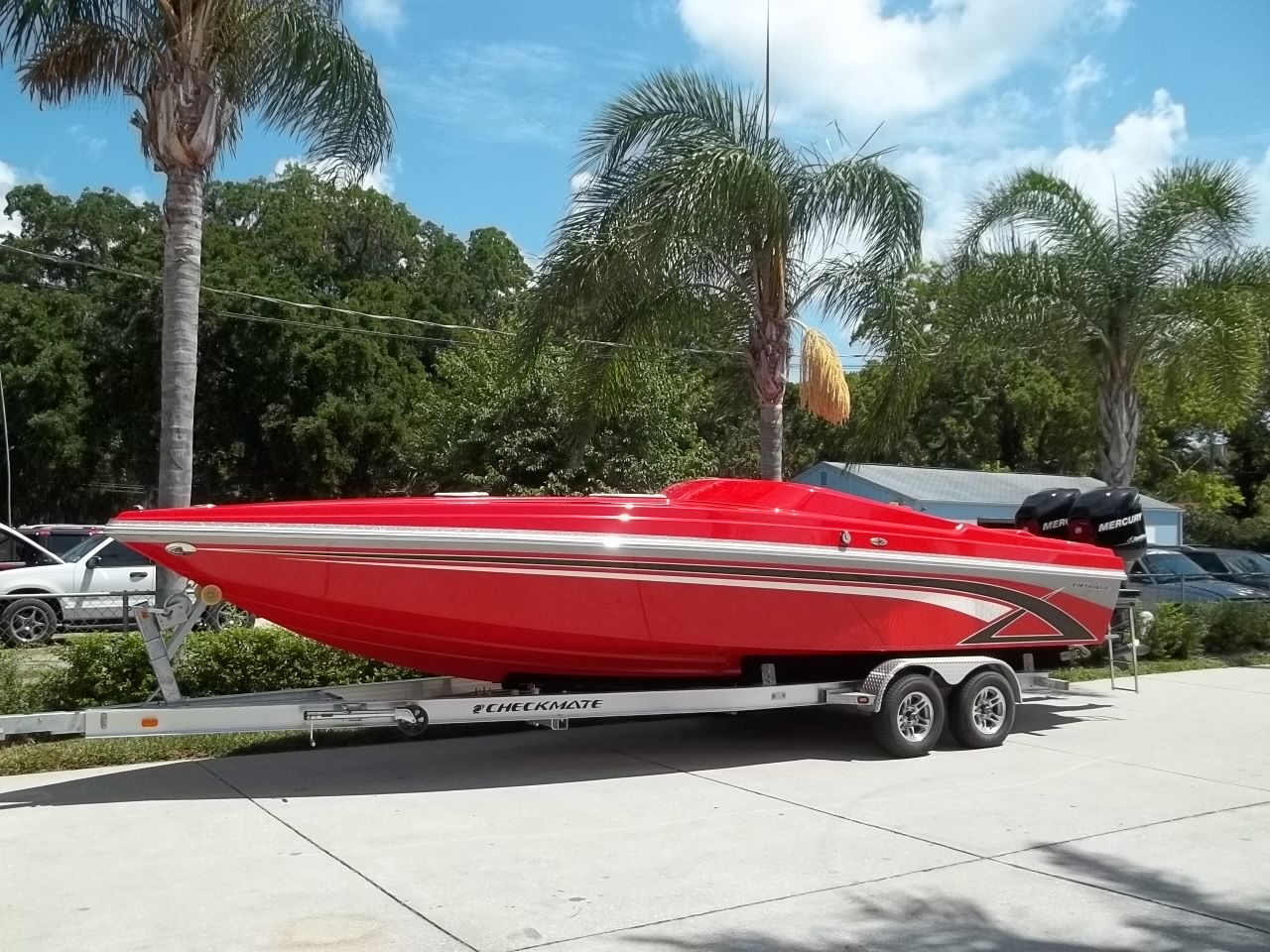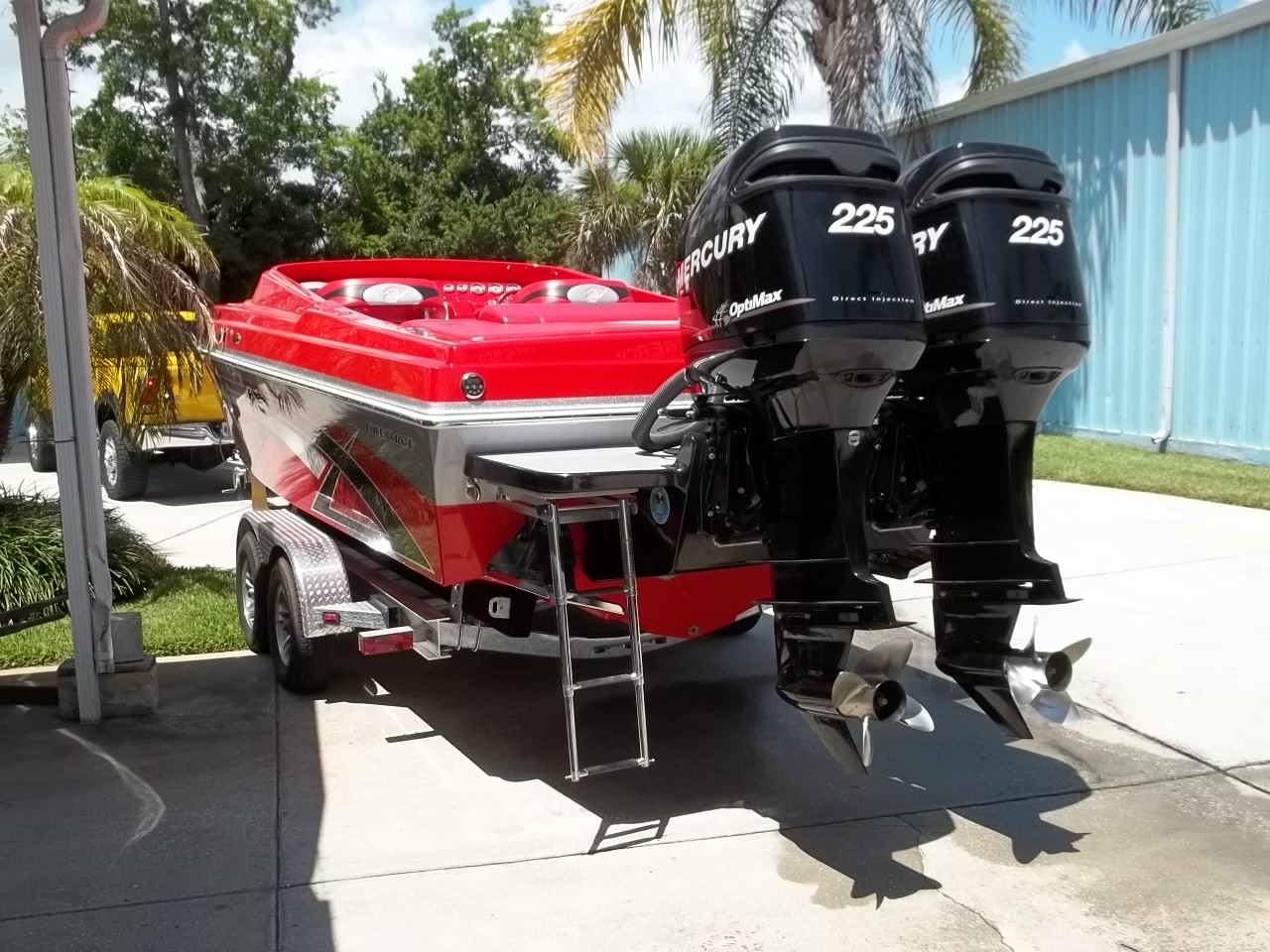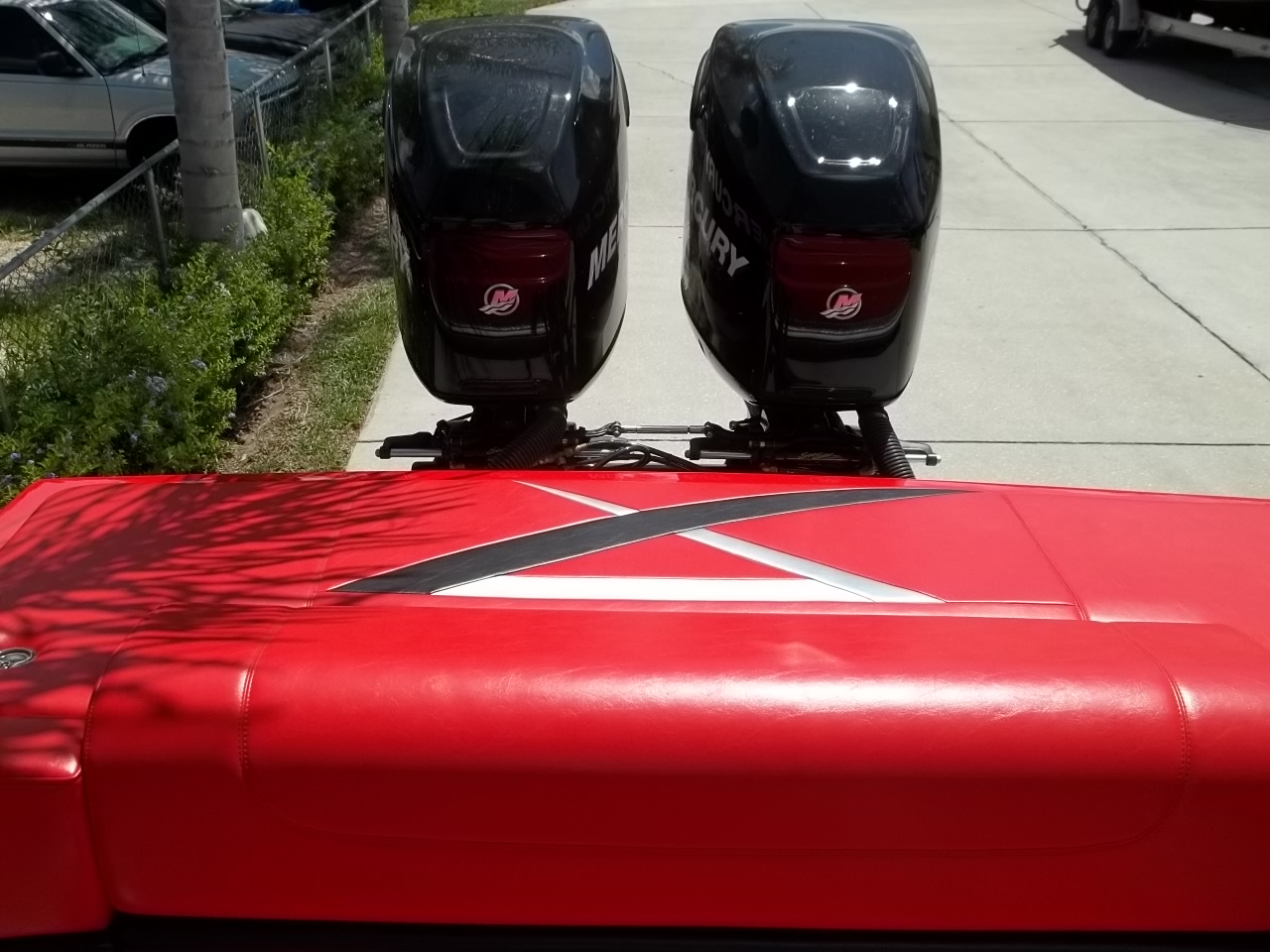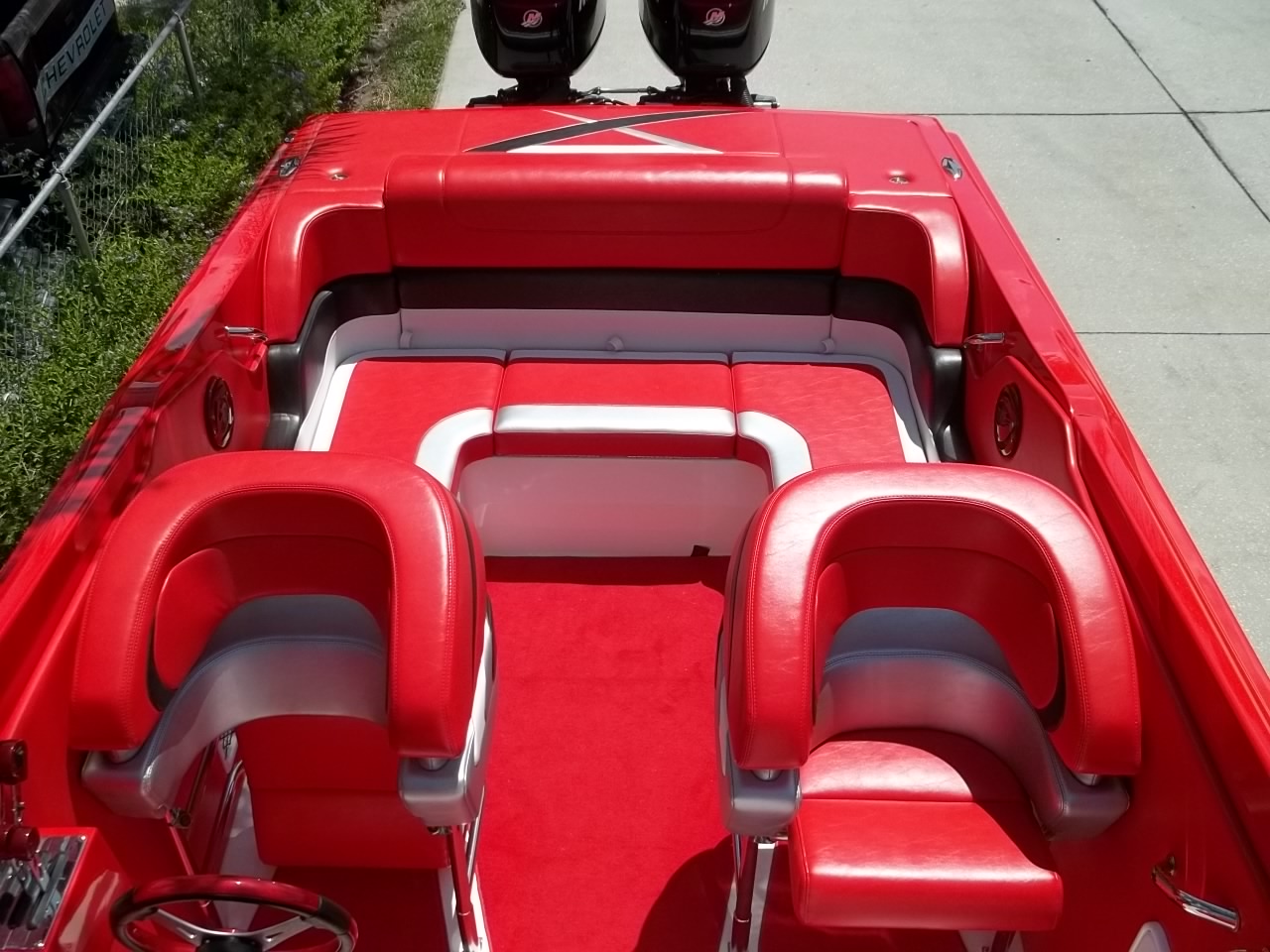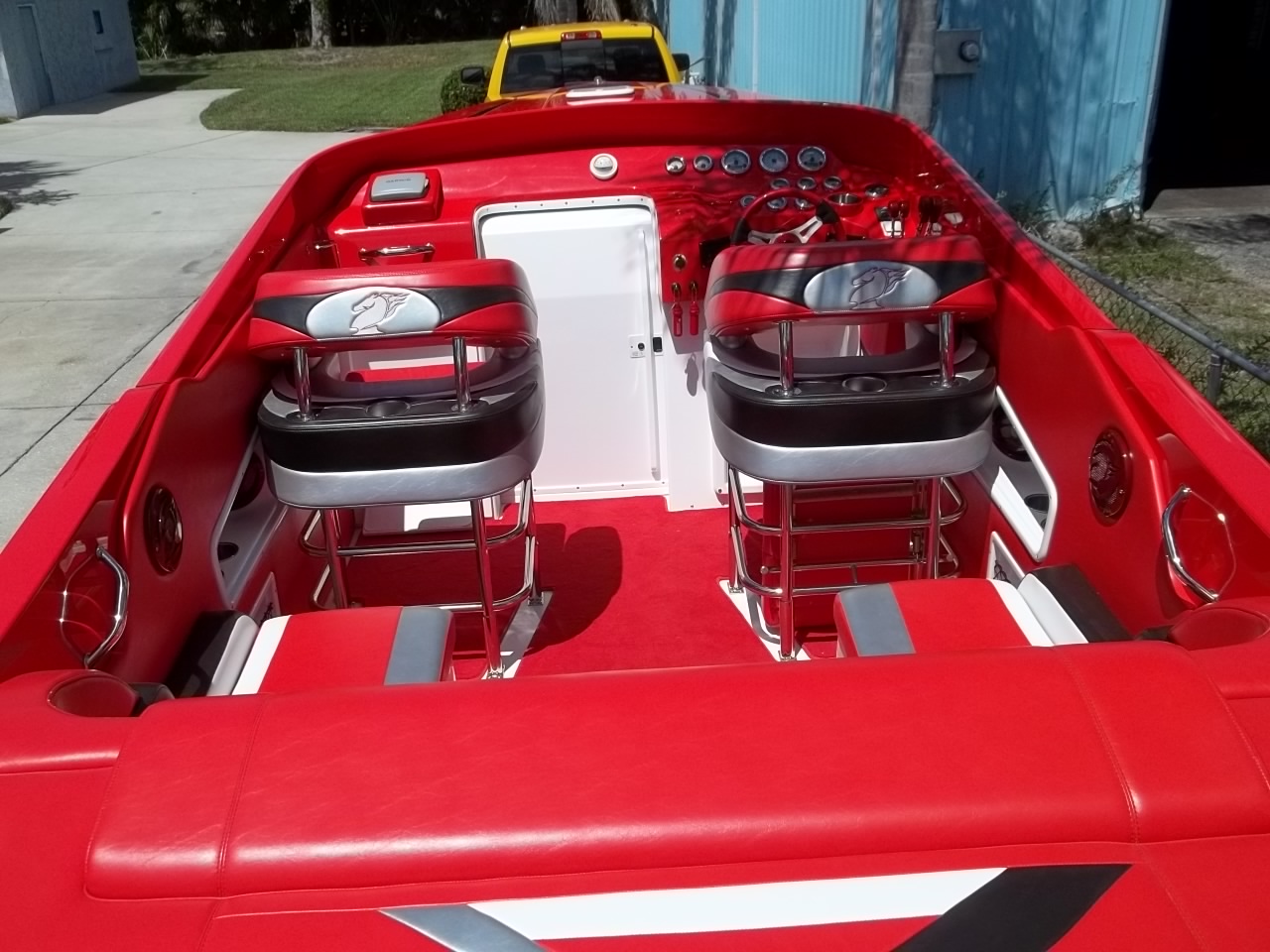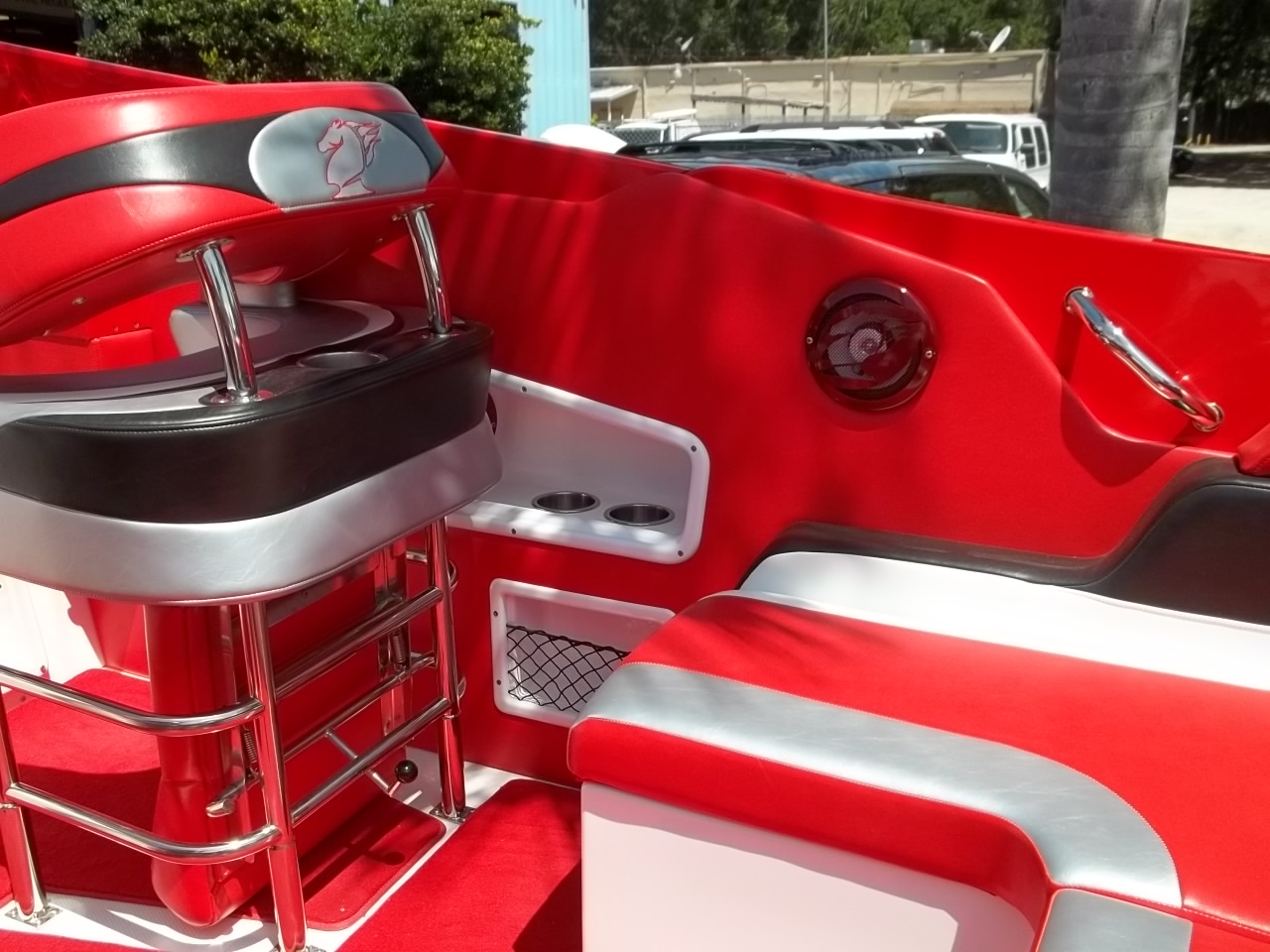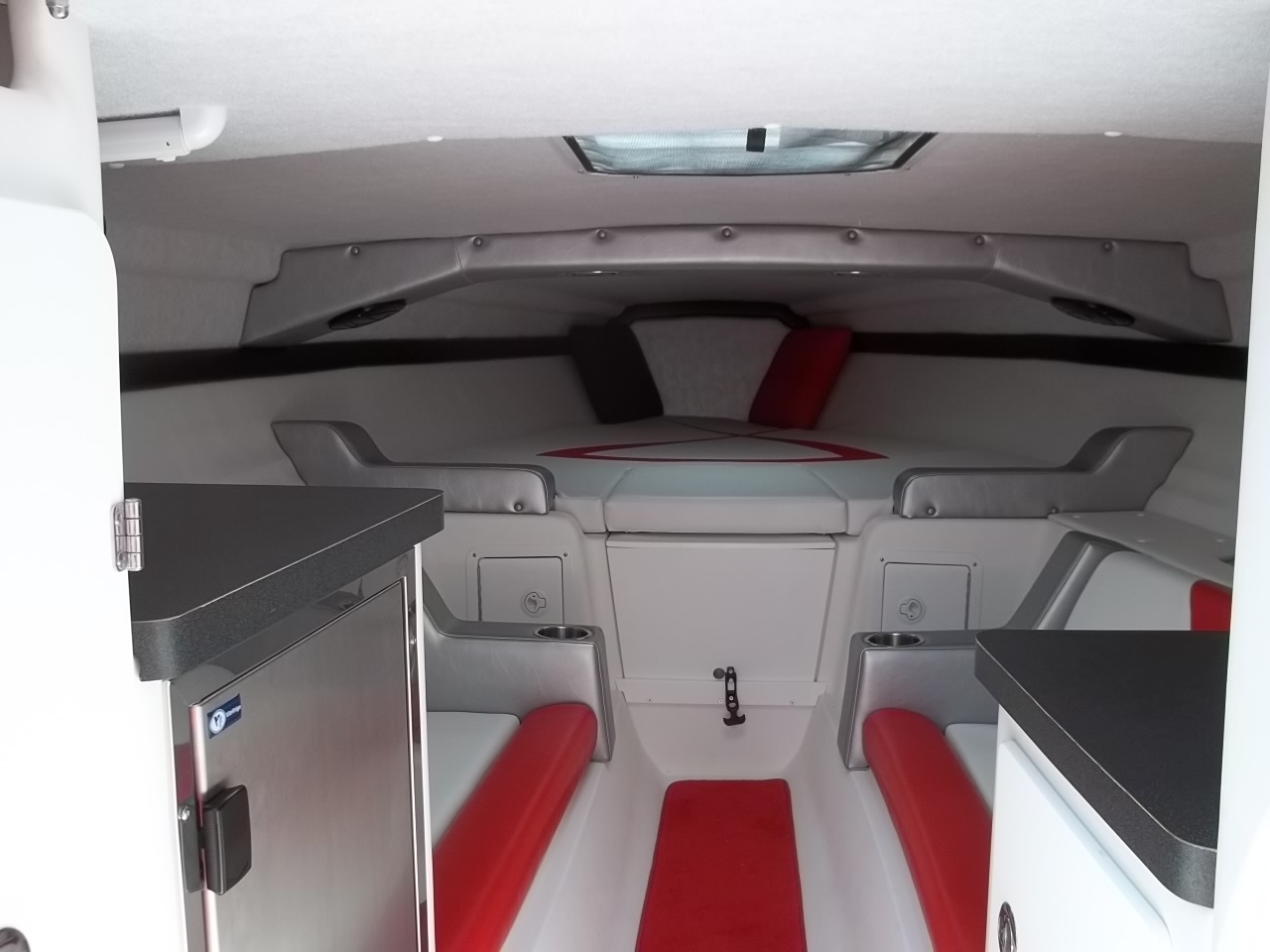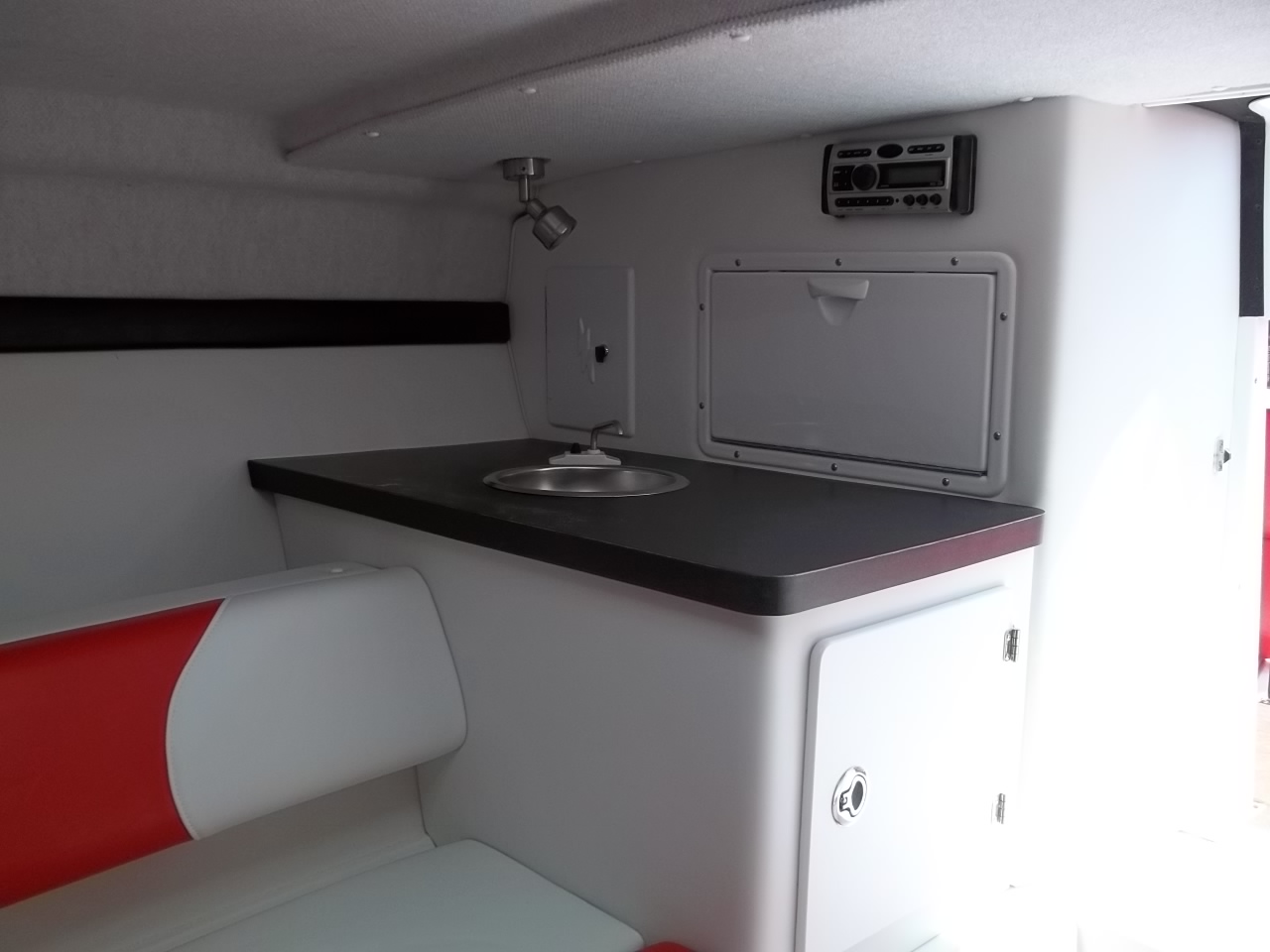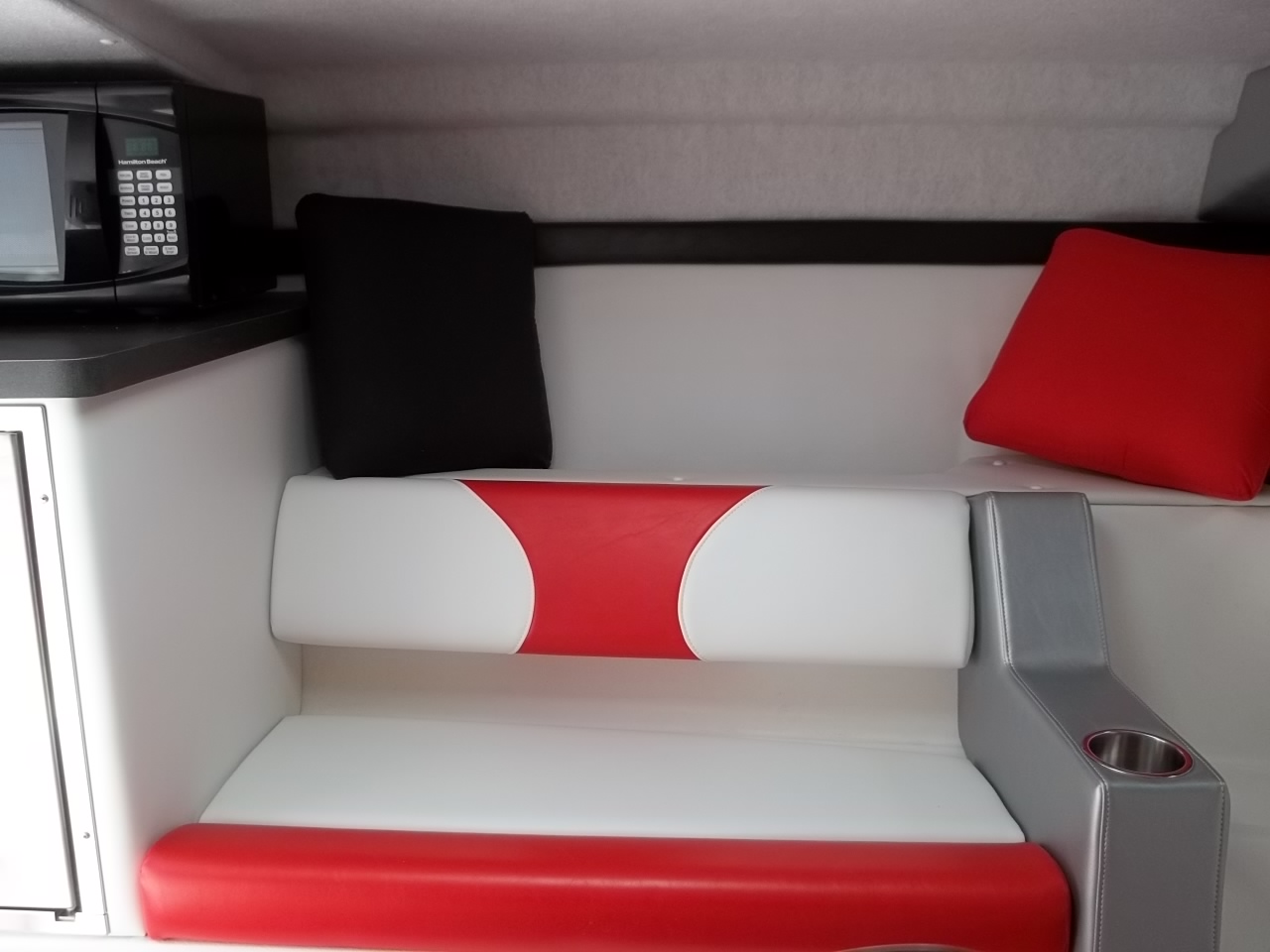 SOLD! This is a brand new 2011 21ft closed deck Checkmate. I recently had this boat running 98.3 mph on GPS! Merc 300xs with sportmaster case, hyd jackplate, custom setback bracket, Livorsi carbon guages with GPS, killer stereo, LED lighting inside, In-Control foot throttle and shifter, Hyd steering, Pro-trim, snap-in carpet, and custom aluminum trailer with mags. MOTOR HAS BEEN SOLD !!! I CAN GET A NEW MOTOR OR SELL WITHOUT MOTOR FOR $27,500 !!!!!!!!!!!!! THIS IS $30,000 LESS THAN THE BOAT WAS ORIGINALLY WITH 300XS!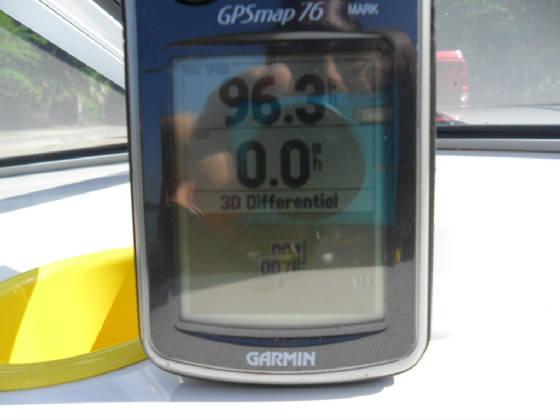 I've been working on the setup. This boat runs 96.3 MPH (SO FAR!)